Creating a vision board online is simple and valuable, and it is much easier now with all accessible online technologies.
According to a survey in February 2021, nearly half of responders spent 5 to 6 hours a day on their phones, not including work-related activities.
My favourite tool to use for creating a vision board online is Canva. But before we discuss other ways of creating a vision board online, let us see some of the benefits of having a vision board.
What is Vision Board?
A Vision board, in my eyes, is a snapshot of your future. Everything you want to achieve is in pictures and words in front of you.
Visualisation is a powerful technique, and millions of people use it daily.
Having a vision board makes it easier to see your goals.
What are the five benefits of having a vision board?
Five benefits of having a vision board.
It makes your dream clear - If you have clear images of where you want to be and what you want to achieve, a vision board makes it more transparent. 
Gives you motivation - When I look at my vision board, it boosts motivation, and I want to start doing something relevant to my goals and get closer to the end goal.
It makes you happier - every time I visualise myself achieving my goals, it makes me more optimistic; I look at the pictures of me achieving everything makes me smile.
Clear focus - Your action becomes more focused on what's important.
It makes you more productive - You will focus on activities which will bring you closer to your goals, and do not procrastinate.
I am sure there are many more benefits of having a vision board, but it's enough to convince me that I need to have one.
Can a vision board be just words?
Of course, a vision board can be just words, and nothing is wrong with it.
It can be just one word, and words can be more potent than images, and it is entirely up to individuals.
How do you create a vision board?
There are a few ways to create a vision board.
First, you need to know why you must create a vision board.
A goal. A Dream. A Vision.
Then you need to imagine you have achieved your goal.
For example, you will have either material object - a big house near the lake. Have a picture of the house near the lake on the board.
You want to visit different countries - have images from those you wish to see.
Do you want to go to space? - Have a rocket and a space image. ( I wouldn't mind going to space; personally, it would be something, and I might add it to my vision board).
Learn to play an instrument - have a relative picture.
I think it is straightforward, and I hope it makes sense.
Creating Vision Board Online
My favourite tool to use to create a vision board is Canva. It is straightforward, and I have so much fun creating vision boards for my goals.
Create a vision board with Canva.
There are many websites and apps, or you can use PowerPoint or something similar, but most of them cost money, and some are very complicated to use.
Where do you place the vision board?
Ideally, you want it where you can see it often, daily preferable. You don't want it hidden in the loft or stored under the bed.
You want to see it, and it will make you want to go for it, do not waste time and focus on what's important.
My vision board
My vision board contains all my life goals; it has a picture of my house, car, body, mindset, habits, achievements, places I want to visit, and net worth. I want to live to 100, and it's on my vision board.
That's what my vision board looks like.
Apart from my life vision board, I have other vision boards to help me visualise my goals. One year / 2 Years / 5 years. Those small/medium/long-term goals have vision boards, and all my dreams are related to my life vision.
Before doing any activity, I often ask myself - Is this going to get me closer to my goal? If not, why would I waste my valuable time on it?
Time is the most valuable asset we have. Time is ticking, and how long we have, nobody knows.
Conclusion
There is no one solution for everyone, many ways to create and display your vision boards. And we all have different commitments and other goals, and we all live different lives with very different lifestyles.
Some people have internet access and a room with a desk and computer. Some choose to travel the world with just a laptop and a few items in their bag.
I know many people live in poor conditions and below the poverty line. Sometimes it is easy to sit in a warm room with a teacup and dream about the future. But we need to be grateful for what we have. There is nothing wrong with not being able to afford what you want as long as you have a goal and a clear vision of where you want to be in x period—and do some activities every day, which will get you closer to where you want to be. You will be fine.
Creating a vision board might be a step which will make your goals and dreams a reality.
You need to believe and be positive.
There are millions of people doing it every day. Visualise your future.
Start with an end in mind.
A brilliant book to read about it - The 7 Habits of Highly Effective People
Do not overthink it if you have never created a vision board before. Start small—one step at a time.
If you wish to do it online, try Canva. It is fun and will for sure make your dreams come alive.
Thank you for your time, and I hope you found this article helpful; if you have any questions about it, please leave a comment below or feel free to reach out to me on contact us! Page.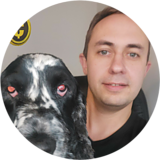 Have a great day.
---