How to create a website to make money was on my mind for a while, and I thought you needed to have a degree in Computing science or software engineering. Maybe a few years ago, it was the case, but we live in a world where technology is moving very fast. Creating a website is easy, and almost anyone can do it.
Opportunities everywhere
Everything is online now, and if you want to open any business, online or physical store, you need to have an online presence, and a website is usually the best option. I thought only people with top degrees could create a website a few years ago. And of course, I thought it's impossible to do it on your own, from the comfort of your sofa, with just a laptop and internet.
Progress of technology has been insane in the last few decades. We have so many opportunities now than never before.
With access to the internet, you can learn any skill you want, most of them for free.
There are so many distractions online, so it's harder to focus on one thing. That's why not many people are sticking to specific qualifications or courses, in my opinion.
Ways to Make Money Online
There are many ways to make money online, and more and more opportunities are opening up also, competition is growing. Be careful if someone tells you it's easy to make money online. It will get easier once you know what you are doing, but you need to work for it to be working.
Almost all businesses have an online presence now; if they haven't yet, believe me, you must have an online presence in the 21st century if you want to grow your business.
If you are starting and have an idea or would like to start a website, here is a few options.
Different types of website
eCommerce - Amazon is probably one of the most popular eCommerce websites out there; you can buy almost anything you need. And there are many others out there. If you have few products to sell, you can launch a website and start selling things. Many people buy in bulk or directly deal with manufacturers and then resale it with a profit. Dropshipping is very popular also. I like it more as you don't even need a product to own or hold; you find someone who sells something, find a customer who wants this product, add interest in it, and let the original supplier handle the shipping. Brilliant business.
Landing page - Very effective way to sell something; usually, it's just one page with an offer or sales pitch if you wish.
Membership - You can create a website with valuable information and charge people membership fees to enter. Many people are doing it—Netflix, for example.
Blog websites - are probably most popular with beginners. You can start a blog very easy now, and you don't need any experience and any specific qualification, plenty of tools are available online for you to explore if you wish to start this way. What makes blogging attractive to millions is finding a niche you are interested in or knowledge about and sharing it. Some people will always look for information online, and you can share it with them.
These are just some examples of websites you can create to make money.
Affiliate Marketing
One of the ways to make money on the website is via affiliate marketing. If you have never heard about it, please read my article on building an affiliate website.
Example of affiliate marketing:
A company selling a product for $1000, I contact them and join an affiliate program, and they are paying a commission of 10% for every sale.
I advertise a link to their product on my website or social media.
People are clicking on a link, and potentially someone bought a product.
I receive 10% or $100.
If ten people a month bought it, it's $1000 a month of additional income.
Potential with Affiliate marketing is vast, but you need to put some effort to find products that have systems to promote them.
Tons of tutorials online on getting started were a problem for me; I was overloaded with information and wasn't sure where to start until I found wealthy affiliates.
All in one platform
Once I looked at the platform's features and read some feedback, I decided to try it and went through the free training for beginners. I have built this website without any problems, and it was easy for me to do.
I decided to go with this platform because of the track record of the successful website owners and affiliate marketing experts I meet in their community. Also, owners and founders are very active members and offer support all the time.
Online classes have so much information I stopped researching anything related to affiliate marketing as they have all the info I need.
Check them out and see what they offer. Also, try a free course for beginners.
Conclusion
There are many ways to create a website now, and trust me; You don't need a special qualification to do it.
Many in one platform out there ( one of them I mentioned above ) offer tools to build a website with just drag and drop features; no coding is needed in most of them. In the beginning, it's enough, but once you scale up your business, you might want to consider going for paid services.
Having a website is not a luxury anymore, and if you have a business, any type and don't have a website, I would consider spending some time researching this topic. It will make your business more attractive to your potential clients.
Creating a website to make money is much easier than you think. Do not overthink and check it out.
Thank you for your time, and I hope you found this article helpful; if you have any questions about it, please leave a comment below or feel free to reach out to me on the contact us! Page.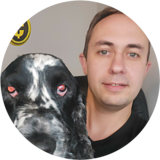 Have a great day.